Rip Curl Sponsorship for Bali Surfer
Today, Rip Curl proudly announced to renew their contract with Bali barrel charger and everybody's darling Garut Widiarta. Garut is not only one of the best surfers from Bali, that is well known around the Balinese Surf scene for his outstanding performances at legendary spots like uluwatu, he currently holds place two in the 2013 Asian Surfing Championship Tour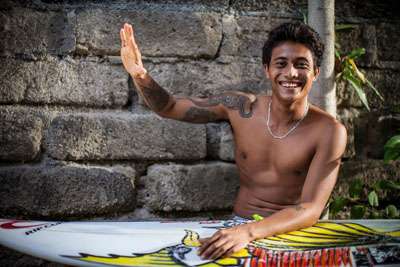 In a recent interview about his latest signing Garut stated: "I've been with Rip Curl since I'm 12 yars old. Rip Curl is like family for me and I'm so stoked I can continue my dream of living the search." So big ups at this point from our team here at Stormrider Surf Camp Bali. Always proud if one of the Bali riders has the chance to enter the game of professional surfing. Stay save, have fun and never forget your roots.
Garut Widiarta surfing in Bali
As well as Garut is travelling all over the world, he surely loves his home and spend every possible second around the awesome spots in Bali. Here, you can wtch his promo clip, if you wanna know what his surfing looks like. The video contains footage from some of the most famous spots in Bali, like Uluwatu and Kuta beach. Both spots are on the regular guiding plan of the stormrider camp.
How to get sponsored in Bali
Garut Widiarta is 25 now. By the time he got signed on Rip Curl with his first contract he was 13 years old. So the easiest way to answer this question is - start early boys and good luck!