Close to our surf camp in Bali, you'll find the well known Echo-Beach. This part of the Canggu beaches is home to a couple of nice restaurants and bars, like the the Echo Beachhouse, as well as a number of very good local warungs. For sure, there are a couple of famous and infamous surf breaks too, which are considered to be some of the most consistent surf spots in Bali at all.
Canggu surf spots
On the way down from the camp on Pererenan main road,  you bump right into Stairs, a fast lefthander and a lot slower righthander which can be good for intermediates and is also suitable for beginners at smaller swell sizes.
The next spot, just 50 meters towards south, Rivermouth, is a fast to tuby righthander, which breaks close to the beach, but however offers a long ride, almost down to the next spot in the line.
Sandbanks is a punchy and sometimes hollow peak, that is often, but not only used by bodyboarders, especially when the conditions are challenging. Beware of the currents!
Next and right in front of the Echo Beach promenade, you can enjoy one of the nicest tubes of balis westcoast, which is not located on the bukit peninsula. It is working as a lefthander at high tide and swell sizes around 5 feet and above.
Passing echo beach, you're on your way to Old Man's, which is considered to be a very nice break for longboarders, that can easily hold swells above 10 feet. Especially the right hander can offer long rides on a big open face, but the lefthander has just the same power, but closes a little earlier when it hits the reef in front of the echo beach temple.
Last but not least, the most famous and therefore sometimes crowded spot goes by the name Batu Bolong. Like all the other spots at the Canggu beaches, except of Sandbanks, it breaks over a mix of reef/rocky and sandy bottom. It can be considered to break consistent through all tides, assuming there is decent swell and not too much wind.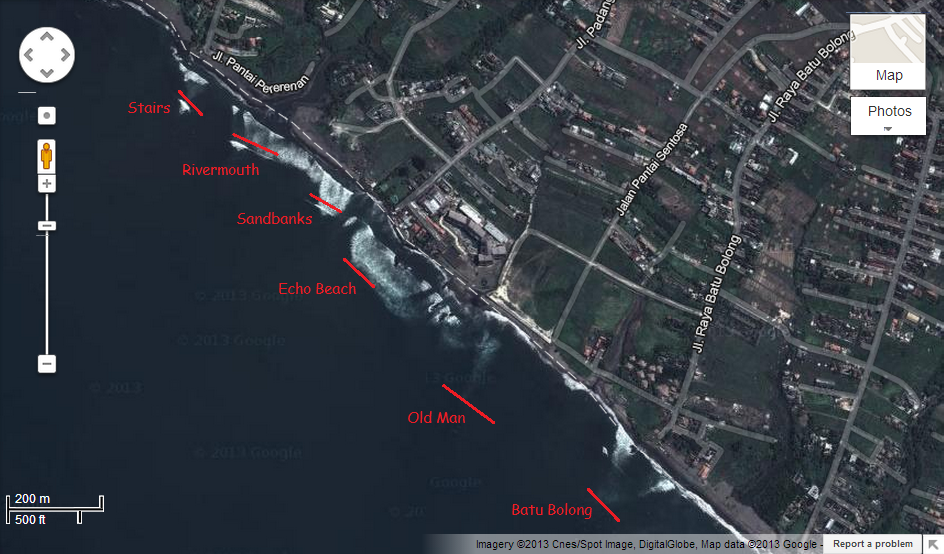 Surf Spot Map
If you have any questions regarding the Canggu surf spot map, or if you wanna ask for a stay at our nice Bali surf camp, feel free to drop us a line on our Stormrider Surfcamp facebook page or get in touch via our contact sheet.
In addition, you are also invited to visit our extended Surf Spot Map for Bali with additional information about the most consistent and most famous breaks on the West-Coast, as well as on the east-coast and the bukit peninsula. Wherever you go, show respect for the people and the ocean. Selamat jalang!