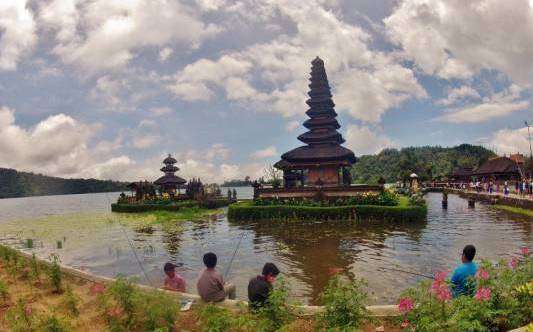 Cultural Daytrip to Bedugul
Sunday is funday ;) ...Sunday is cultural daytrip day too ;). So let your tired body recover a little after five days of surfing and/or hard partynights out in Kuta or wherever & let's hit the road after Breakfast in direction to Bedugul! A nice drive through the inner part of the island of Bali in the middle of rice paddies, Vulcanos in the background of the scenery and of course a lot of balinese lifestyle along the road...not to forget: a lot of traffic too ;)
On the "to see list"
Water temple Pura Ulun Danu situated at the Beratans Lake
Git-Git Waterfalls
Traditional Market

...here are some impressions of the daytrip:...a lot to see, a lot to discover...

beautiful landscape on the way...

always keep you rooster in good conditions ;)

The lovely temple Pura Ulun Danu in the Beratans Lake, is the youngest one (1663) out of the three temples dedicated to the god Dang Hyang Nirartha with his gardens made with lot of love for the details. The oldest one Pura Uluwatu (11th century, Bukit Peninsula) and Pura Tanah Lot (16th century, Tabanan).

Having a look at the temple and stroll around in it's hugh garden, if you lucky, there is a balinese hindusimn ceremony going on. Especially the ceremony that takes place every 10 years (next 2019), takes about 3 months of preparation and about one month of ceremoning, is an unique experience. Just enjoy it and have a look from a respectfull distance ;)...time to hit the road again...next station:

A little walk on the narrow path down the stairs, passing all the little souvenvenir shops opens the view on the impressive Git-Git waterfall. The little pond invites for some little swim and funny picture sessions, even the water is pretty freezy.

After a little swimm, the way back up the stairs let's go to have a look for some fresh fruits at the market. A really nice and good option to test your negotiation skills...

A long day with nice impressions and maybe some new expressions finish in a chilly drive back home...ask the driver in case you would like to stop over somewhere for a special indonesian dish dinner...