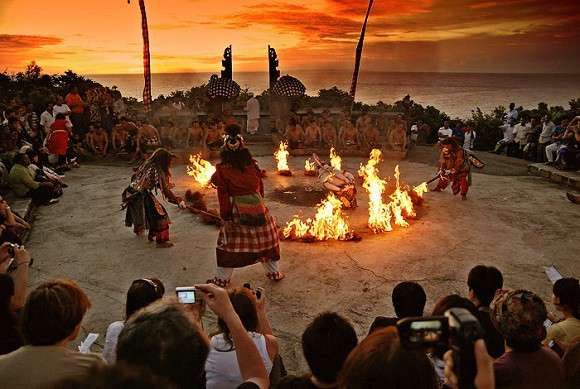 Cultural Daytrip to UluwatuInstead of a lazy weekend, most of our guests choose the option to join the Sunday Daytrip as we usually do not offer surf lessons/guiding during the weekends. The surf spots in Bali are anyway mostly too crowded during the weekends and our surf guides deserve a day off from time to time, too :).
This time, we hitting in direction to the Bukit Peninsula with it's famous surf spots Uluwatu, Padang Padang and Balangan. One of our favourite destinations beside Ubud and Bedugul.
After breaky we jump into the car, wiggle through Bali's weekend traffic (even not as crowded as during the week but still busy)...and tataaaaaa the beautiful view on the lovely beach of Balangan opens up in front of us.Balangan is a close to be perfect lefthander and at the right condition one barrel after the other comes in, take care of the lip, this wave can hit you with a hard and massive lip. At smaller days a good beginners/intermediate beginner spot as well as long as you do not sit in the middle of the main peak ;). Always worth it, an Advocado-Chocolate-Juice in one of the nice Warungs right at the beach front meanwhile having a look at the surfers and at the waves out in the ocean.
The next stop on the list Padang-Padang! No doubt: One of Bali's most famous waves. The little beautiful white sandy beach you reach easy by passing the temple area and going down the narrow stairs cutted through in between the cliffs. The waves are breaking close to the shore over a shallow reef. If you have the chance to see that spot at high swell conditions you know why it is so famous and why the Rip Curl Pro Event takes place there every year during July/August. This wave is just a perfect lefthand barrel! At smaller days you can enter there as well as an intermediate beginner (take care of the reef, booties might be a good idea) and surf Baby Padang the righthander of this fantastic wave.